A congressional riot incited by US President Trump not only brought Washington, D.C.'s security level "back to the Civil War overnight", but also brought the "American democracy and legal system" into its original shape.
The Governor of Chang'an Street (WeChat ID: Capital News) noticed that two days before Biden's inauguration ceremony, Washington is facing a big enemy. U.S. law enforcement has learned that an organized armed group of about 4,000 people is marching to Washington armed to prepare to "defend Trump to the death".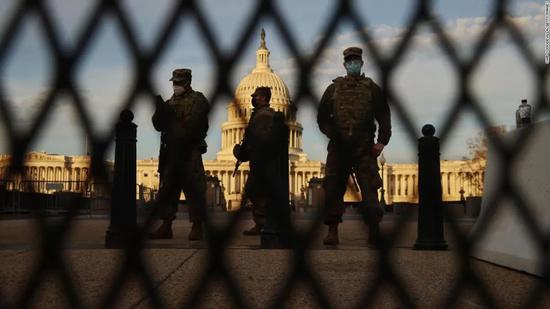 Earlier, the Federal Bureau of Investigation (FBI) warned that it had received information that armed protests might break out in the Capitols of 50 states and the Capitol in Washington, D.C., on the day of the inauguration ceremony.
So far, the number of National Guard personnel stationed in Washington, D.C. has reached 25,000, even three times the total number of U.S. troops in Afghanistan, Iraq and Syria.
And even if the security work has reached the level of strict protection, people in the White House dare not live. 
White House staff began to move one after another, and some reporters photographed Trump's daughter Ivanka and his wife were also packing up and preparing to leave.
During the move, someone took the bust of Lincoln away.
A White House staff member revealed on social media on the 17th that Trump had asked his family and friends to leave the White House the night before for security reasons. 
The official also released a short video in which a group of people were waiting in line to get on the plane.
As Trump's relatives and friends prepare for their escape, more than 40 people have been diagnosed with COVID-19, the Pentagon's 25,000 National Guard soldiers authorized to send to Washington.
Soldiers crowded together to sleep and rest in the Capitol, and the risk of collective infection is everywhere.
"The only time in American history can be compared to Biden's inauguration in terms of security," says Heather Richardson, a professor of history at Boston University, was the inauguration of President Lincoln before the Civil War.
Trump plans to fly out of Washington shortly before Biden is officially sworn in on the 20th.
The White House is not sure where Trump will go after leaving office, but it is speculated that it will be Mar-a-Lago in Palm Beach.
It comes after reports that some of Trump's future neighbors are trying to prevent him from living in Palm Beach for a long time.
The Governor of Chang'an Street (WeChat ID: Capital News) noticed that Trump was still seizing the time to abuse his power before leaving office. 
Bloomberg previously reported that Trump has made a list of proposed pardons, which may include himself, his relatives, friends and two famous rappers.
According to the latest news from CNN, Trump is ready to announce amnesty and mitigating punishment for nearly 100 people on the 19th, and the list does not include himself for the time being.
CNN believes that after the congressional riots and the presidential impeachment case, the possibility of Trump pardoning himself and his personal lawyer Rudy Giuliani has become very low.
Seeing that the situation could not help, Trump's staff could not stand it. 
Trump's staff have made tens of thousands of dollars by using their relationship with the president to help convicted people get pardons, a person familiar with the matter told the New York Times.
And a source close to the White House told CNN that it is natural for Trump to pardon family and friends before stepping down.
The United States does lack laws that govern the presidential pardon power, and it is not illegal for Trump's aides to collect money to lobby for others.