On December 9th, local time, a coalition of more than 40 state attorneys generals led by the Federal Trade Commission (FTC) and New York State filed a lawsuit against social media giant Facebook, accusing Facebook of abusing its dominant position in social networks against potential competitors. Struggle for acquisition.
This is the second antitrust lawsuit filed by the United States against large high-tech companies this year, and the U.S. Department of Justice also launched an antitrust lawsuit against Google in October this year.
Facebook is accused of engaging in anti-competitive acquisitions
The U.S. Federal Trade Commission said that Facebook has taken a series of measures to stop competition, especially the acquisition of Instagram for $1 billion in 2012 and WhatsApp for $19 billion in 2014.
The U.S. Federal Trade Commission requested a federal court to issue a permanent restraining order requiring Facebook to divest its assets, including Instagram and WhatsApp, thus splitting the company.
New York Attorney General Letitia James responded at a press conference, saying that "Facebook uses its dominance and monopoly power to suppress less competitive opponents and kill competition, all at the expense of users."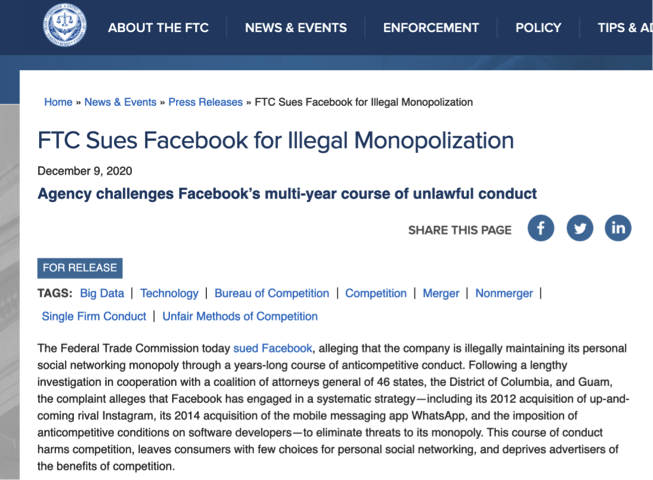 According to the Federal Trade Commission, Instagram was a fast-growing start-up at that time (2012). It appeared at a key node in the development of personal social networks: users using personal social network services are migrating from desktop terminals to smartphone terminals, and the more consumers The more you like to share photos.
At that time, many executives, including Facebook CEO Mark Zuckerberg, quickly realized that Instagram was a dynamic and innovative company of the same type, which threatened Facebook's monopoly. At first, Facebook tried to compete with Instagram by improving its own products, but finally Facebook chose to buy it directly.
The New York Times commented that the popularity of Instagram and WhatsApp apps has soared since the completion of these transactions.
These apps helped Facebook grow from a company that was founded in college dorms to an Internet giant with a market capitalization of more than $800 billion.
Today, Facebook has 2.7 billion users and a market capitalization of nearly $800 billion.
Its CEO Mark Zuckerberg ranks fifth on the world's richest list.
Facebook responded that the government punished successful enterprises.
Ian Conner, the official responsible for overseeing antitrust behavior of the U.S. Federal Trade Commission, said: "Social networks are crucial for millions of Americans.
Our goal is to curb Facebook's anticompetitive behavior and return to normal business competition order so that industry innovation can flourish."
Facebook said that such a lawsuit was punishing successful companies, and pointed out that the Federal Trade Commission had approved Facebook's acquisition of Instagram and WhatsApp a few years ago.
It is reported that before the lawsuit was officially launched, a coalition of more than 40 state attorneys generals had conducted an investigation into Facebook's anti-competitive behavior for about 14 months.
The U.S. Federal Trade Commission has been conducting antitrust investigations against Facebook since June 2019.