February 2nd. On the 1st local time, three members of the Liberal Democratic Party of Japan submitted an application to leave the party and were approved.
They were exposed early on ignoring the state of emergency and had dinner in a club in Ginza, Tokyo until late at night. Japanese Prime Minister Yoshihide Suga also apologized to the people that day.
According to a report from Japan's Sankei Shimbun on the 1st, the incident started with a report on January 26.
Jun Matsumoto, who was acting as the Liberal Democratic Party's congress committee chairman at the time, was revealed to have dinner at a club in Ginza, Tokyo on January 18.
After 11 o'clock in the evening. 
Matsumoto then admitted the relevant facts and said that he "goed alone."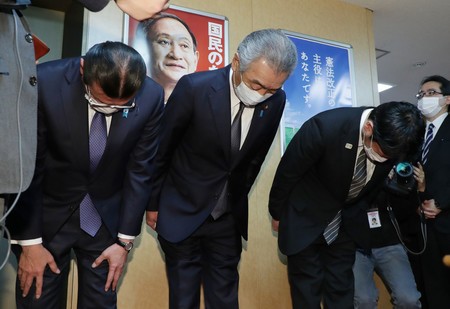 Subsequently, many media exposed more details, saying that although Matsumoto insisted that he went to Ginza alone, he actually sat at the same table, including the then Deputy Minister of Education, Culture, Sports, Science and Technology Tanoze Taichi, and the Deputy Chairman of the National Assembly's Countermeasures Otsuka.
Gao Si. Matsumoto apologized for this on the 1st, saying, "I want to protect my younger generation and made remarks that are inconsistent with the facts. I apologize for that."
On the evening of the 1st, Yoshihide Suga informed Tanose at the Prime Minister's residence that he would be removed from his position as Deputy Minister of Education, Culture, Sports, Science and Technology, and severely reprimanded him. 
Yoshihide Suga then apologized to the people, saying, "I have made a lot of requests for everyone, but the politicians have not set an example. It is really regrettable. I am deeply sorry for this."
Yoshihide Suga has repeatedly apologized to citizens for political scandals and anti-pandemic measures since he took office.
On January 26, he apologized for the government's lack of medical preparation, saying, "At present, he has not been able to provide necessary (to all patients). I think the people are uneasy about this."