February 18th – United States has been hit by extremely cold weather in recent days, and temperatures in many places have hit new lows in recent years, and at least 31 people have died.
Among them, Texas was the most serious disaster. The blizzard paralyzed the power grid in the cold, and about 4 million residents had long-term power outages in their homes. Severe weather has also closed several vaccination centers and delayed the delivery of vaccines.
When U.S. President Biden arrived in Wisconsin on the 16th, he described it as "as cold as a devil".
However, according to the National Weather Service forecast, the next round of blizzards will hit again, affecting many states in the southern, midwest and northeast of the United States in the next two days.
Extreme weather kills 31 people, 4 million people in Texas without power
The National Weather Service said that the Arctic super cold air swept across the United States this past weekend. The situation is the most serious in seven states, including Texas, Louisiana and Kentucky.
Temperatures in places like Houston, Texas, are even lower than Alaska near the Arctic Circle, and outdoor temperatures in parts of Dallas have dropped to minus 45 degrees.
The Texas Electricity Reliability Commission (ERCOT), which is responsible for supplying 90% of Texas's electricity, said that the sudden drop in temperatures have led to a surge in electricity consumption and insufficient power supply, and the state of electricity has entered a three-level warning state of emergency supply, which means that large-scale rotating power outages in Dallas, Houston and other cities.
Inclement weather has caused power outages for more than 36 hours for about 4 million homes and businesses in the state. ERCOT said on the morning of the 17th that more than 600,000 households had restored power supply at night.
But as of that day, nearly 3 million users in the state were still out of power.
The New York Times reported that at least 31 people have died in eight states in the winter storm. A family of four died in a fire while using a fireplace to warm at home.
Many people were poisoned by inhaling carbon monoxide when using different tools to warm, and many people were killed in car accidents caused by slippery roads.
Many people in Texas are still without water due to freezing or cracking water pipes.
"I never thought I would need to do this in Texas," a Dallas nurse, Munno, who had to collect snow and melt to get water.
Angry Texas people found that although they shivered in the dark, the skyline of the city center was still on.
"My neighbors and I are very angry, it's a total disaster, and there's no reason to freeze the entire neighborhood to death," said Nichols, who lives in north Austin.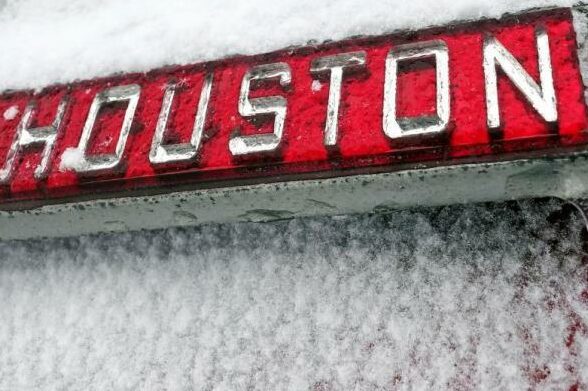 Vaccines and distribution are blocked, and a new round of storms will hit again
Poor road conditions also make it difficult to distribute vaccines.
Houston Mayor Turner said that Houston's vaccination center will continue to be closed.
The statewide distribution of vaccines will also be delayed, depending on the local weather, the Texas Department of Health Services said.
A vaccine warehouse in Houston may be scrapped due to a backup power supply failure. Heavy snow has seriously affected vaccination arrangements.
Even if the vaccination center reopens later, the authorities will have to reschedule the vaccinations of the affected people these days. The overall vaccination order is expected to take several weeks to return to normal.
A Tennessee vaccine delivery center was affected and will delay delivery of vaccines to Colorado and other states, according to the Colorado Joint Information Center.
Ohio Gov. DeWan said that the delivery of vaccines shipped directly from Pfizer and Modena is expected to be delayed by one to two days due to bad weather.
Georgia Public Health said many health care providers are rescheduling vaccination appointments due to delays in vaccine delivery, but when the appointment will be made will depend on when the vaccine arrives.
The vaccines being shipped to IL will be shipped directly to the "National Strategic Reserve receiving, storage and exercise base" due to anticipated delays, according to an official press release.
In Chicago, heavy snow has closed all testing and vaccination centers, and authorities expect vaccine delivery to be blocked in the coming days.
To make matters worse, the National Weather Service predicts that there will be a new round of severe weather in the next three days, from Texas to Mississippi and north to Virginia.
Affected by a new polar cold current, dozens of counties from Fort Worth, Texas to Dallas have received winter storm warnings, which are expected to have ice and snowfall, and the northeast of the metropolitan area is expected to drop up to six inches (15.2 centimeters).