China's 14th Five-Year Plan started solidly, with gross domestic product growing 18.3 per cent year-on-year in the first quarter, the highest level since quarterly GDP growth figures were released in 1992. This bright economic transcript has received wide attention from the international community. Foreign media and experts and scholars interviewed by the People's Daily said that China's sharp economic growth in the first quarter of this year reflected the resilience and sustained development of China's economy, injecting strong impetus into the global economic recovery.
"Production activity is back on track"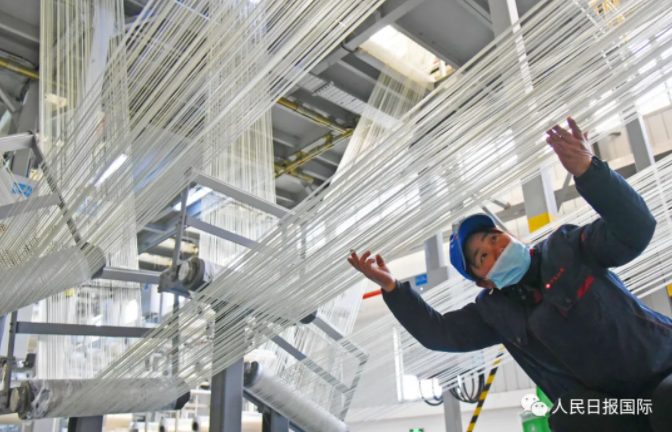 Workers inspect the operation of the carbon fiber production line at the Lianyungang Economic and Technological Development Zone in Jiangsu Province on April 16, 2021. Geng Yu and Photo/People's Vision
Afp:
China's economy has recovered rapidly as a result of strict epidemic prevention and control measures implemented by the Chinese government. Strong retail spending, industrial activity and better-than-expected exports have made China the world's only major economy to achieve positive growth by 2020. As life has largely returned to normal, China's retail sector surged in the first quarter of 2021, with all major industries recovering.
Jamal, a columnist for Saudi Arabia's Motherland newspaper:
Rapid economic growth is a testament to China's ability to overcome the crisis and provide a sample for the world economic recovery.
Alexander Figueredo, Director, Institute for the Global South, Brazil:
In the first quarter, China's import and export and foreign investment data both achieved "opening the door": the total value of imports and exports of goods increased by 29.2% year-on-year, the number of new foreign-invested enterprises increased by 47.8% year-on-year, and the amount of foreign investment actually used increased by 39.9% year-on-year. From these data, we can see that China's foreign investment, consumption and trade are generally good. Especially as China continues to push forward a higher level of opening up to the outside world, stabilize and expand the use of foreign capital, and firmly promote the construction of the Belt and Road Initiative, foreign trade has shown great resilience and vitality. To maintain the smooth and stable domestic cycle, while high-quality docking international cycle, for the construction of a new development pattern to provide strong support. This will not only benefit the Chinese people, but also help other countries to develop their economies.
Korea's Central Daily News:
China's economic growth rebounded sharply in the first quarter to its highest level in nearly 30 years, driven by rising exports, an expanding economic recovery and a low base in the first quarter of last year. It also means that China's production activity is back on track.
Brazilian economist Elias Yabour:
China's economic achievements are extraordinary and reflect the advantages of the socialist system with Chinese characteristics. China's remarkable economic growth achievements depend on economic restructuring and the promotion of high-quality development. China has used a variety of policy financial instruments to avoid bubbles and financial risks in the process of economic recovery. China's economy will be greener, healthier and more sustainable during the 14th Five-Year Plan period.
"Domestic consumption is expected to be the main growth driver"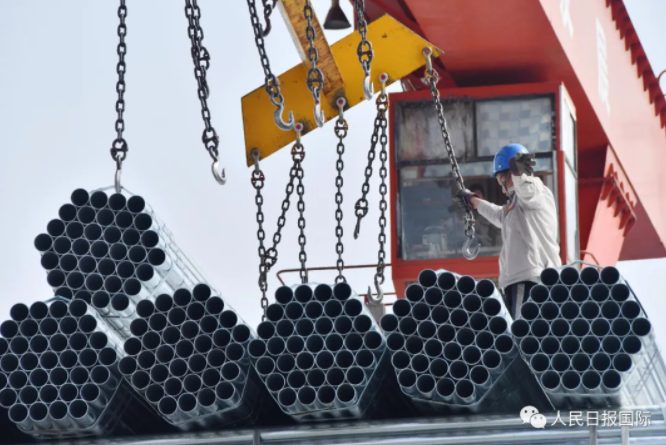 On April 13, 2021, workers at Hebei Tiancheng Pipe Co., Ltd. in Yongnian Industrial Park, Hebei Province, are hauling orders for galvanized steel pipe products exported overseas. Hu Gaolei/People's Vision
Financial Times:
China's rapid economic growth has been helped by industrial production and exports, as well as a recovery in domestic consumption. Household consumption is expected to play a bigger role in boosting economic growth this year.
South Africa Independent Media Website:
Domestic consumer demand rebounded, imports and exports continued to grow, as well as this year's Lunar New Year Chinese people in response to the "local New Year" call, all walks of life to speed up the operation of factors, have strongly boosted China's economy.
ING website:
Data show that China's economy is on track for recovery, retail sales continue to perform well, the restaurant industry has returned to pre-epidemic levels, railway infrastructure accelerated development, technology research and development growth is strong. These growth trends will continue to drive China's economic growth in the future. China's domestic consumption will continue to be a stabilizer of the economy, and digital infrastructure investment will be one of the pillars of future growth.
Reuters:
China's economy accelerated its recovery in the first quarter, helped by increased demand at home and abroad and continued support from the Chinese government for small micro-enterprises. China's economic rebound has been spurred by a steady recovery in exports and consumption, with factories scrambling to complete overseas orders and consumers returning to restaurants, shopping centres and car dealerships. An analysis by Morgan Asset Management's global market strategist said: This year (China's economic activity) is likely to continue to return to normal, and domestic consumption is expected to be the main growth driver.
"China's economic recovery brings confidence to the world"
On April 14, 2021, workers installed equipment in new energy materials enterprises at the 92 Industrial Base in Huichang County, Jiangxi Province. Zhu Haipeng/People's Vision
Wesley Douglas, Senior Adviser to the Government of South Africa:
China's economic recovery has brought confidence to the world. The Chinese government's proposal to promote high-quality co-construction of the Belt and Road Initiative and to expand opening-up initiatives such as trade and investment liberalization and facilitation have strongly supported the global economic recovery. China will continue to be an important engine for global trade and economic recovery.
Park Sem-zan, Director of the Korea Institute of Chinese Business:
China now has the ability to pursue innovation-driven, more balanced, inclusive and greener and more open development. There are plenty of signs that China's economy is moving from high growth to high-quality growth, which is good for Asia and the world.
David Monyae, Director, Centre for Research, African-Chinese Studies, University of Johannesburg, South Africa:
Innovation has become a new engine of China's economic development, China continues to build innovation and empowerment platform for enterprises, economic development is more dynamic. It is hoped that more and more Chinese technology companies will come to Africa to bring new products and technologies to the local market and better help Africa's economic recovery in the post-epidemic era.
Nasser Bushba, President of the Moroccan Association for African-Chinese Cooperation and Development:
China's insistence on innovation-driven development is driving manufacturing from "manufacturing" to "intellectual" and promoting the high-quality development of the digital economy.
Brazil's leading magazine, Please See:
China's first-quarter economic data are a "positive sign" for Brazil's economy. China is Brazil's largest trading partner, and demand for commodities such as soybeans and iron ore is strong as the economy accelerates its recovery. China is one of Latin America's most important trading partners for Latin American economies, including Brazil. The healthy and stable development of China's economy has provided an important impetus for Latin American countries to get out of their current predicament.