In recent days, due to the continuous provocation of the Australian government, the relationship between the two countries has fallen to an all-time low. In terms of economy and trade, Australia has also been investigated and sanctioned by China for a series of violations such as export dumping.
But in the past two days, many Australian media have spread a message: Although there is no China, we are worthy!
The two reports on Australian lobster and red wine released yesterday by ABC and the Sydney Morning Herald in Australia are all this "trick".
In the report on lobster, the Australian Broadcasting Corporation said that although Australia's lobster exports to China are unfavorable due to the tension between China and Australia, the resulting sharp drop in lobster prices has benefited consumers in Australia.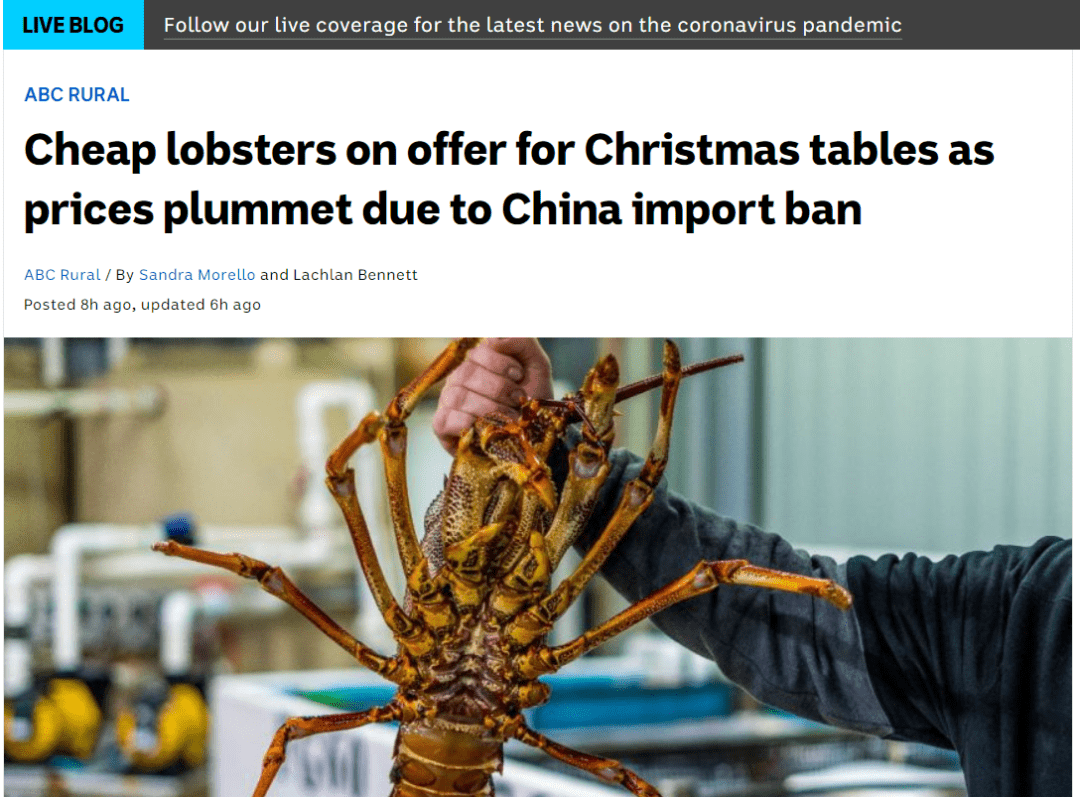 In the report of red wine, the Sydney Morning Herald said that Australian wine merchants are still optimistic about the future, and some said that they could make up for the losses in the Chinese market by expanding the markets of other countries.

I remember that the last time Geng Zhige saw this statement came from the Taiwan Democratic Progressive Party authorities, whose cross-strait relations have seriously deteriorated because of their continuous play with the politics of "Taiwan independence", and its so-called "new southward" policy.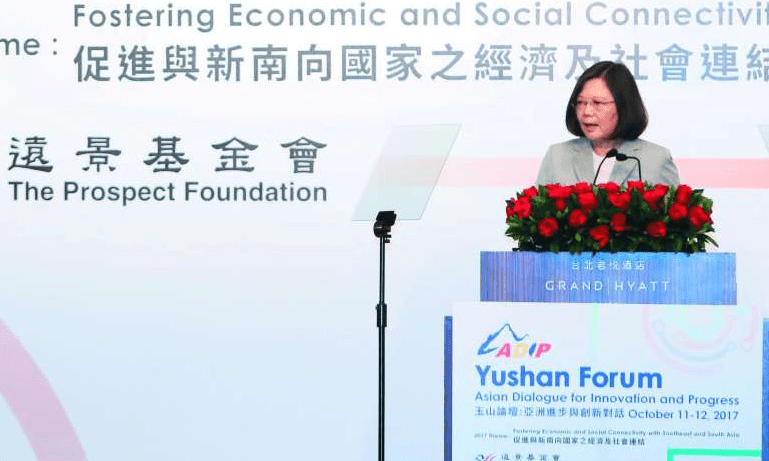 Not to mention, some anti-China politicians from Australia and other Western countries, as well as anti-China elements of "Hong Kong independence" and "Taiwan independence" forces, really have a similar "market expansion" strategy for Australia. According to the report of the British Guardian, these people are calling on so-called "democratic" countries to support Australia, buy Australian red wine and other products, and call it "democratic red wine".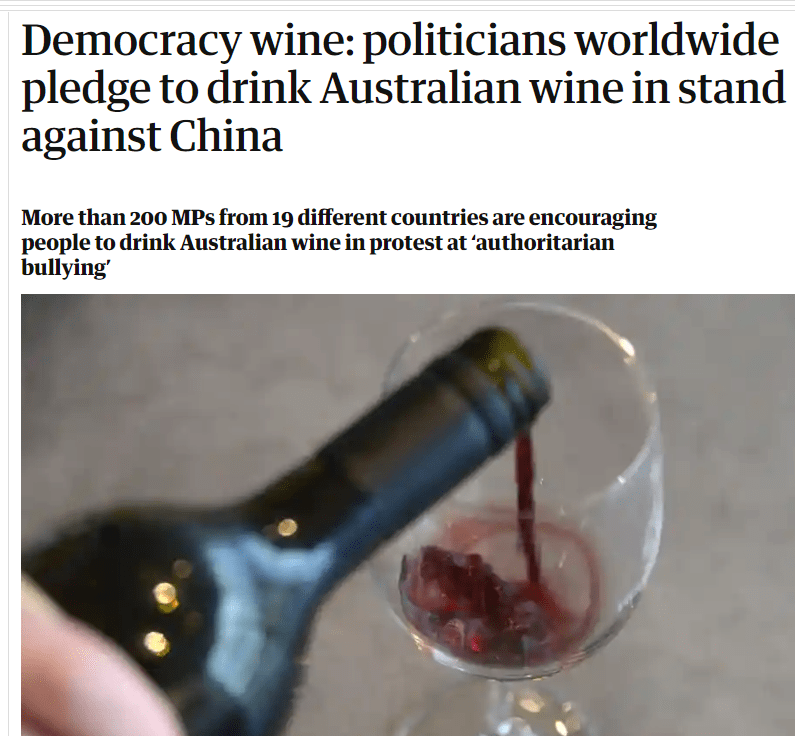 It is worth mentioning that the most "infamous" of these anti-China politicians is Martha Blackburn, a white American politician who publicly insulted the whole Chinese nation two days ago, saying that China's 5,000-year history is "fraud and stealing".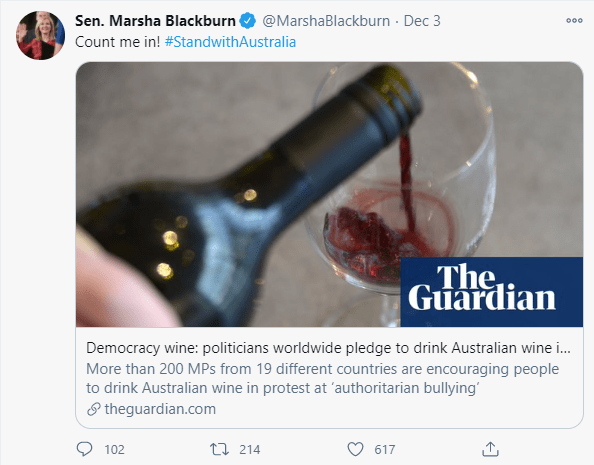 But thanks to her participation, many people have seen the essence of this so-called "democratic red wine" strategy, which is just a farce created by a group of racists.
Moreover, although the number of these anti-China politicians is more than 200, these people come from 19 countries and regions, and the average number of people in one place is about 10. I'm afraid that there are not as many neighbors as Geng Zhige's unit building…
What's more embarrassing is that just as the Democratic Progressive Party authorities' "new southward" policy is impossible to make up for the loss of the mainland market and ultimately fail, according to the British BBC report, it is difficult for Australia to make up for the loss of the Chinese market, because China's weight among Australia's top 10 trading partners is shown in the figure below. Like: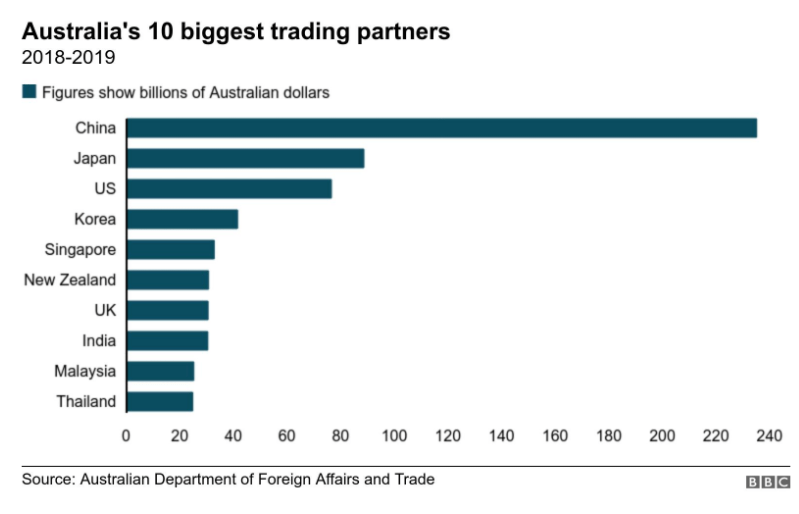 Even in the Sydney Morning Herald's report that Australian winemakers "are not worried about losing the Chinese market", an Australian winemaker mentioned that "Europeans must think that the Chinese government is the best government in the world at this moment", because European winemakers can now occupy Australia before. The Chinese market has been brought back.
In other words, while some anti-China politicians in European countries are supporting Australia's "democratic red wine", they may also secretly "stealing pleasure" Australia.

Therefore, when watching the Australian media constantly "ply cheer up" its domestic public opinion, saying that it is not worth it to Australia without China, Geng Zhige can't help but think of a "master" who has been hammered to his face, but is still boasting about himself.