According to the Cambodian China Times, Cambodian Prime Minister Hun Sen announced on Facebook on the 17th that he would be vaccinated against China against the novel coronavirus and would become the first vaccinator in Cambodia.
"Two days ago, I announced that China would donate 1 million doses of coronavirus vaccine to Cambodia.
Today, in order to increase confidence in vaccination and promote the fight against the epidemic, I announced that I will become the first vaccinated person in Cambodia.
Hun Sen wrote on Facebook on the 17th. It is worth mentioning that Hun Sen also put the post on the top.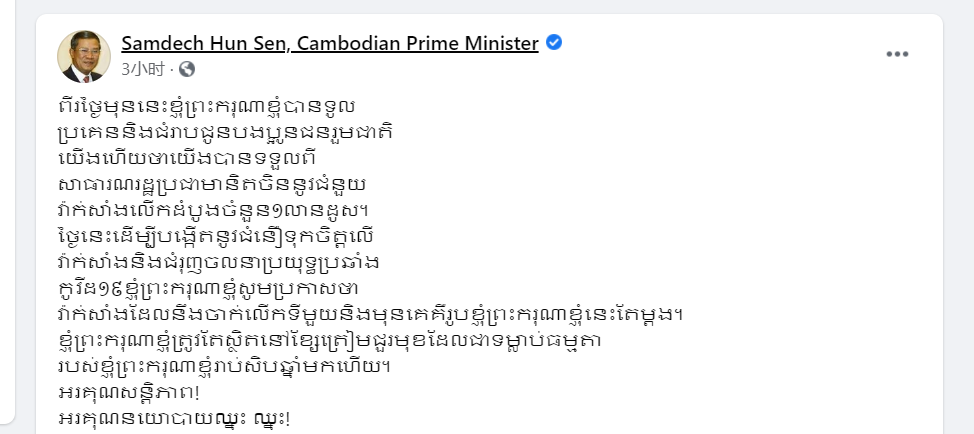 The report also mentioned that Hun Sen announced on the evening of the 15th that China would donate 1 million doses of coronavirus vaccine to Cambodia, including the coronavirus vaccine developed by China National Pharmaceutical Group and China Kexing Company.
Hun Sen also said that the government would be free to vaccinated the first 500,000 people against the coronavirus.
In addition, Hun Sen revealed that in addition to the 1 million doses of vaccine donated by China, the government will continue to obtain more vaccines through purchase or donation. The government will vaccinate at least 80% of the country's population.
According to the website of the Ministry of Foreign Affairs, on October 11th local time, Wang Yi, State Councilor and Foreign Minister, who paid an official visit to Cambodia, met with He Nanhong, Deputy Prime Minister of Cambodia and Chairman of the Cambodian side of the Intergovernmental Coordination Committee between China and Cambodia in Phnom Penh.
Wang Yi said that at present, China and Cambodia maintain a strong momentum of mutually beneficial cooperation in various fields.
The recent meeting of the two-governmental intergovernmental coordination committee reached a series of consensuses and developed a new list of cooperation, which is currently being successfully implemented. China-Cambodia mutually beneficial cooperation is all-round and covers almost all fields.
China will continue to support Cambodia in fighting the epidemic, giving priority to providing Cambodia with vaccines and purchasing more Cambodian high-quality agricultural products.
He Nanhong said that Cambodia highly appreciated China's significant achievements in fighting the epidemic, and thanked China for providing anti-epidemic material assistance and sending medical expert groups to Cambodia.
The achievements of Cambodia's epidemic prevention and control cannot be separated from China's strong support.
The next step is to carry out vaccine cooperation with China, fully launch the "fast channel" and the "green channel" of logistics to facilitate the economic and social development of the two countries.
Previously, leaders of many countries had publicly vaccinated China.
On the 13th of this month, Indonesian President Joko was vaccinated against China. On the evening of the 14th, Turkish President Erdoğan was vaccinated against the coronavirus against Klaifu from Beijing Kexing Zhongwei Biotechnology Co., Ltd. in Ankara City Hospital. In addition, Turkish Vice President Oktay was vaccinated against the vaccine developed by China at Ankara City Hospital on the 16th.