U.S. President Biden nominated Vivek Murthy for the post of Director of Public Health, but he has recently been controversial because he is "too profitable". U.S. media said that this incident may affect the Senate's confirmation of his nomination.
The Surgeon General, the first position is the head of the PHSCC, the spokesman of the U.S. federal government on public health, providing scientific guidance to the American people – so the media questioned that if Mussie came to power, Whether the stakeholder groups behind it will affect their speech orientation.
The position is appointed by the President for a four-year term and confirmed by the Senate.
Vivik Musi, who served as the director of the Public Health Bureau during his time as President Obama, became the youngest person in the position and the first Indian to hold the position, but Trump fired him as soon as he took office.
This Obama-era "old minister" has full trust from Biden. Biden appointed Moussi as one of three co-chairs of the coronavirus response task force before he took office, the New York Post reported on November 8 last year.
In early December last year, Biden nominated him as the director of the public health bureau. The U.S. Senate will hold a hearing on the 25th to consider the presidential nomination.
In preparation for his inauguration, Moosey had previously made his financial disclosure form public.
The Washington Post analyzed it and published an article on the 21st that Musi "receed" more than $2.6 million during the pandemic through speeches and consulting services to large private enterprises.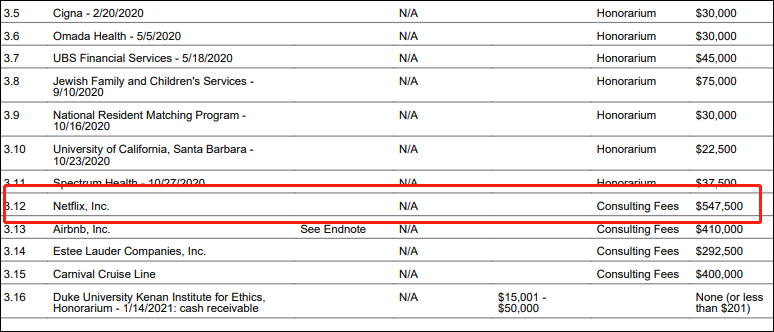 Among the ones who paid for Mussy's consulting services included Carnival Corporation's cruise business, Airbnb, Estee Lauder and Netflix.
Moussi also recorded more than $500,000 by speaking at various enterprises, such as Google and UBS.
"It is not clear how much [stakes] he is involved in the consulting industry," said Jeff Hauser, director of the Revolving Door Project of the American think tank Economic and Policy Research Center.
"We hope that we The Director of Health gives the public a completely objective opinion."
So far, Moosey himself has declined to comment on his disclosed financial data, and several officials in the Biden administration have endorsed Moosey, saying that "he can provide clear and accurate health information."
The Washington Post predicts that Moosey can still return to the position of director by narrowly confirming in the Senate – but as long as one of the Democratic senators "muted", the nomination may be unstable.
The biggest "hidden danger" now is West Virginia Senator Joe Manchin.
The gun-supporting congressman voted against Moussi in 2014. Manchin's spokesman said, "I haven't decided whether to vote for him (Musey).