Anxiety, anger, abandonment…With less than two weeks to go before Christmas, at least 39,000 Australian citizens and permanent residents are trapped overseas due to Australia's restrictions on entry.
"Now, the only option left for those who want to go home on vacation is to ride Santa Claus's sleigh." CNN said.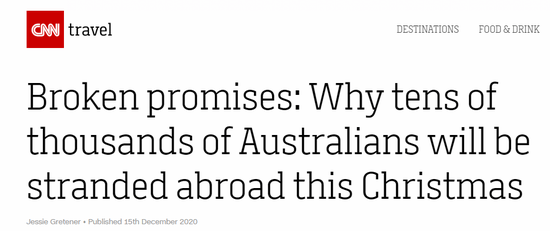 Since March this year, the Australian government has issued a decree prohibiting foreign tourists from entering the country and prohibiting their own citizens from leaving the country. It also recommends that Australians who work in safe places stay there.
Starting from July, the COVID-19 epidemic in Melbourne rebounded sharply. Fearing that people returning home with the coronavirus will overlap with the local epidemic, the Australian government decided to reduce the number of people allowed to enter the country to about 4,000 per week at one time. Although the number of people allowed to enter the country has increased, only about 7,000 people per week are accepted.
CNN said that these bans have led to the cancellation of a large number of flights to Australia, each flight is allowed to accommodate more than 30 people, and the price of one-way tickets has risen exaggeratedly. For example, flights from Abu Dhabi to Sydney currently cost more than 10,000 Australian dollars. The cost of compulsory quarantine in the hotel is about 3,000 Australian dollars per person.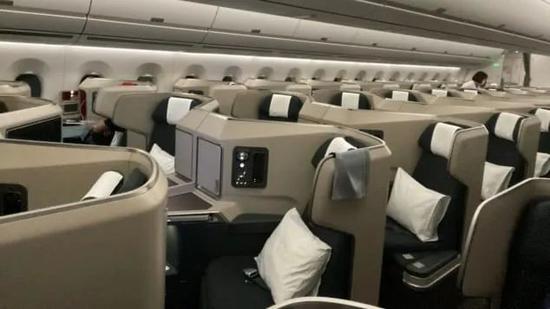 According to the report, the Australian government currently provides one-time loans for stranded citizens, but these loans can only be used as a last resort and must be repaid.
In mid-September, two months after the implementation of the ban, Australian Prime Minister Morrison promised to the nationals that "by Christmas, even if not possible, everyone can go home as many people as possible".
Australian Health Minister Greg Hunt, who closely followed Morrison's statement, "will ensure that every Australian who wants to go home can go home at Christmas."
The Australian Foreign Affairs and Trade Department (DFAT) said that since the ban was imposed in mid-July, at least 25,000 Australians have registered on their official website to "want home", but the Qantas Committee of Representatives estimates that the number of citizens stranded overseas has approached 100,000. The website also states that "Registration does not guarantee that we can facilitate your return".
According to the report, Joel Mackay, the head of an international organization in Australia, believes that Australia's infliation of the ban is a violation of international law, and that "under the Universal Declaration of Human Rights and the International Covenant on Civil and Political Rights, the Australian government is obliged to bring its citizens Go home.
McKay added: "Setting the upper limit cannot keep the nationals out. In some cases, this can also lead to the separation of children from their families, and the government may also violate the Convention on the Rights of the Child."
CNN interviewed several Australians stranded abroad and found that many of them have no jobs, no visas, no medical insurance, and some people don't even have stable housing.
"At the same time, life in Australia's own country is returning to normal: some restrictions have been eased, domestic travel has been restarted, stadiums are packed with crowds, music theaters are reopening, and Christmas celebrations are in full swing… Morrison also shows off the success of the pandemic to world leaders. Credit. Report.
However, many citizens in Australia worry that the return of stranded overseas people will make the red light of the epidemic again.
Therefore, on social media, people stranded overseas who want to return home are being "hanged" by some Australian netizens, such as "It's your own fault", "You should die of COVID-19", "You are wasting taxpayers' money" and "You shouldn't go home".
The article believes that the Australian government is currently facing a "double-edged sword". If Morrison lifts the ban and a new epidemic breaks out, he is breaking his promise to "guarantee Australia's internal security"; if he extends the ban, he will violate his promise to "take Australians home".