German Federal Agency : for Disease Control and Prevention "Robert Koch Institute", as of the 18th local time, Berlin has accumulated more than 50,000 confirmed cases of Coronavirus, with a total of 394 deaths, and 1572 new cases in the past 24 hours.
the 3.4 million people in Berlin, less than 70 people have one who has been or is currently infected with new Coronavirus.
The situation can be said to be very serious. 
On the 18th local time, demonstrations against the pandemic prevention and control measures broke out in the German capital Berlin, which made Berlin's already very severe pandemic prevention situation worse. 
In response to the deteriorating pandemic, the Berlin Parliament voted on the revised "Infection Protection Act" on the 18th to further strengthen prevention and control measures. This has caused dissatisfaction among some people. 
On the 18th, demonstrators gathered in front of the German Bundestag and Brandenburg Gate to protest the government's prevention and control measures. According to local police, about 5,000 to 10,000 people gathered near the Brandenburg Gate alone.
Many people at the scene did not wear masks in accordance with the pandemic prevention requirements. 
Some demonstrators had physical conflicts with the police, some were arrested, and the police used water cannons to disperse the crowd. 
In response to the blockade in Berlin and the living conditions of the people, reporters conducted on-site visits. In the morning of the working day, the reporter observed that there were still a lot of people on the street.
Apart from being unable to eat in the restaurant, the lives of the people were not seriously affected. Supermarkets are operating normally, primary and secondary schools still have classes, and there are still many pedestrians and vehicles on the streets. 
However, some service industries have been affected. They have closed their doors, and the lively football stadiums in the past have also become depressed. 
Headquarters reporter Li Changhao: We are now at the Sarrit Hospital, a famous hospital in Berlin. Let us enter the interior of the hospital as patients to see the current situation.
At the entrance of the hospital, the reporter was asked if he had symptoms of Coronavirus. After receiving a negative answer, the security staff discouraged the reporter from entering the hospital and went home to rest.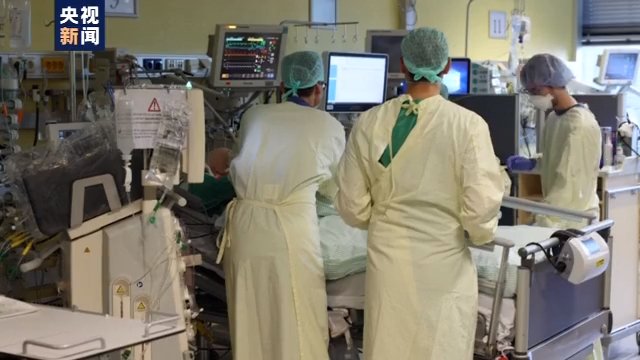 It is understood that many Coronavirus detection points in Germany have reached their maximum load, and their detection capabilities have recently declined. 
Some experts worry that the current decline in the number of new coronavirus detections may not be a real decline, but the lack of detection caused by the decline in detection capabilities, because the positive rate of new coronavirus tests has not decreased but is increasing. 
German Chancellor Merkel will meet with state governors on the 25th to further evaluate the effects of the blockade and decide whether to adopt escalated prevention and control measures.