According to the German media update on the 20th local time, the previous day after the robbery of a cash truck on the famous shopping street in central Berlin, the Elector's Street, slightly injured two security personnel, and the robbers are still at large.
According to the information released by the Berlin police, the robbery of the cash truck occurred at about 10 a.m. on the 19th. At that time, a 37-year-old and a 60-year-old security guard was moving the money box from the cash truck to the trolley, intending to put it in the ATM.
Several armed suspects suddenly rushed down from an Audi A6 sedan and attacked and disarmed the two men with irritating gas. According to the police and witnesses, at least one suspect is armed.
However, a police spokesman revealed that no shooting was fired at the scene.
By the time of press release, the police could not determine the amount of cash the suspect stole. At the same time, the police also confirmed the authenticity of a live video widely disseminated on the Internet.
From the video, four suspects can be seen in orange overalls and wearing a Balaklava hat (a wool hood almost completely covering their heads and necks, with only eyes and some noses exposed), at least one of whom has a black gun in his right hand.
The robbers threw what was stolen from the cash truck into a white sacksack for construction waste. The continuous alarm sound can be heard in the video. In addition, it is speculated that there is a fifth suspect responsible for driving the escape vehicle.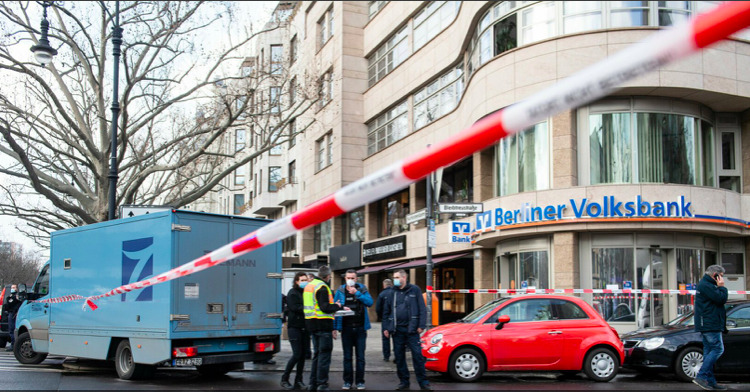 Police have since found the vehicle that caused the accident in a nearby neighborhood and transported it away to carry out further evidence collection. But the vehicle was burned down when it was found.
A police spokesman said that this was an organized, targeted and violent robbery, and the investigation will continue to be carried out on the spot with the federal state criminal police offices, and the public is also welcome to actively provide clues.
It is reported that although the crime pattern is different, the Federal Länder Criminal Police Office will still investigate whether the case is related to the recent gang crime in Berlin.
It is reported that in June and December last year, Berlin had two robberies of cash trucks, with a cumulative amount of about 1 million euros.