January 25th – The female giant panda baby "Fubao" has been paid attention and loved by all walks of life since it was born in South Korea in July 2020.
Recently, a coquettish video of Fubao hugging the breeder's legs has become popular on YouTube, with more than 4 million people watching, and foreign netizens have sighed "too cute".
According to Yonhap News Agency, the video provided by Aibao Paradise shows that Fubao hugs the breeder's legs tightly and acts coquettishly, and his cute appearance attracts many netizens.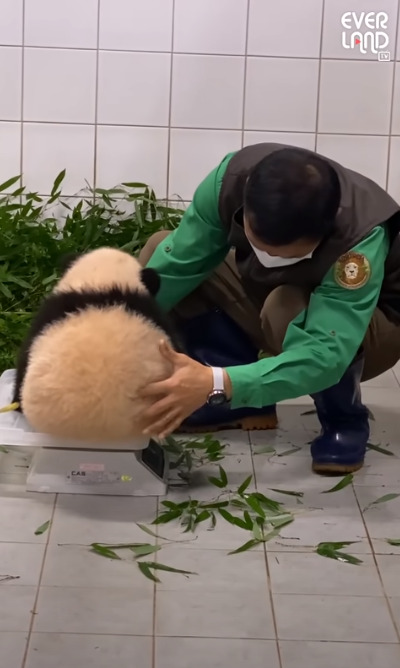 After the video went live on YouTube on December 16, 2020, it exceeded 1 million views in just five days of public, and as of 11 a.m. on the 25th, it had 4.386 million views.
The cumulative playback of Fubao's daily videos has reached 60 million.
Relevant people from Aibao Paradise said that from the perspective of the viewers in the past week, it is mainly the United States, and the number of views from India, Canada, the United Kingdom and other overseas has increased significantly.
According to an earlier report on overseas.com, in March 2016, the giant pandas "Aibao" and "Lebao", as ambassadors of friendship in China, flew 2,400 kilometers from Dujiangdi to Aibao Paradise, which is two hours' drive from Seoul.
On the evening of July 20, 2020, the giant panda couple gave birth to a female cub safely.
Since then, Aibao Paradise has been openly soliciting the name of the "Little Princess", with nearly 50,000 people participating, and finally named "Fubao".